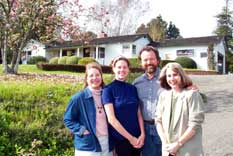 My Sebastopol studio has a rich history that evolved into beautiful grounds anchored by the classic 1950's style. Once the residence and horticultural nursery for Sebastopol's famed Martin's Nursery, the grounds include specimen trees and plants. The studio itself offers rooms of gallery viewing of recent commissions. It is my wish to produce timeless portraits that reflect your lifestyle.

A short walk down a meandering brick pathway leads you to my Gallery Theatre. Authentic theater seats from the original Roxy Theatre sets the stage for your incredible viewing adventure. It's show time! Portraits projected on our screen allow you to preview what your finished Lifestyle Portrait will look like when displayed in your home.
Please stop in for a cup of coffee or tea and let us help you design your "Fine Portraits that speak the language of love."